Mary Alyce Mccullough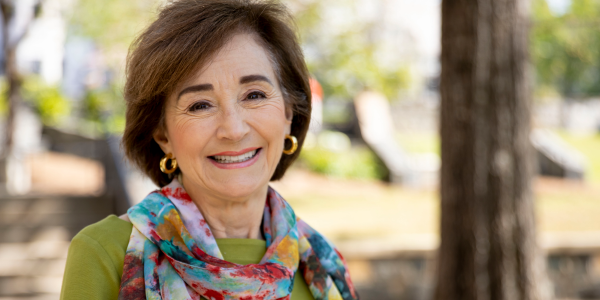 Pace grandparent and member of The Castle Circle MARY ALYCE MCCULLOUGH has included Pace Academy as a beneficiary of her charitable remainder trust (CRT) because she wants "to give something back." She says, "Pace has been the best environment ever for my granddaughter, KATE ROMERO '23. The resources available at Pace are a gold mine. She has just flourished—it's been a wonderful experience."
McCullough's daughter and Kate's mother, DR. JUDITH ROMERO, is a child psychologist, McCullough explains. "Judith visited a number of schools in the area and knew Pace was the best fit for Kate," she says. "She especially valued the quality of Pace's teachers, as well as its commitment to global citizenship, access for all students to learning support [in the Academic Resource Center] and emphasis on character development."
In Kate's three years at Pace, McCullough has enjoyed watching her granddaughter develop her "right-brain talents" through the arts, and her athletic abilities on the soccer field. Kate, who is in the eighth grade, also participated in an Isdell Center for Global Leadership study tour this school year: "She went on the Middle School trip to Morocco and loved it; like everything else, it was a great experience."
McCullough's husband of 48 years, JOE MCCULLOUGH, passed away in 2018. "Joe and I always enjoyed being a part of our grandchildren's lives," she says. Pace's Grandparents and Special Friends Day was a special occasion the McCulloughs took part in together, and recently, she attended the annual event on her own—remaining involved is important to her, and she knew it would mean a great deal to Kate.
McCullough, a native of Maryland and Duke University alumna, and her husband, born in Northern Ireland, met in London as she was completing a nursing neurology postgraduate program and he was working as an industrial engineer. When he accepted a position at Massachusetts General Hospital in Boston, he encouraged her to complete her nursing graduate degree at Boston University. She did, and the relationship blossomed; they soon married, and she began her nursing career while he obtained his MBA from the Harvard Business School.
In their early years of marriage, the couple moved to Spirit Lake, Iowa, where Romero and their son, Eamonn, were born. "We loved Iowa," McCullough says, "but when Joe interviewed for a new position in Chicago, and Judith, then six, called the Sears Tower the biggest grain elevator she'd ever seen, we decided it was time to move." This launched the family on a path that included Chicago, Dallas and Los Angeles, and finally Atlanta, now home for 32 years. McCullough's children graduated from independent schools in Atlanta. "Joe and I always believed in the value of good education and knew the importance of giving our support," she adds.
After their children were grown, the couple took the opportunity to travel, journeying "to seven continents after Joe retired," McCullough says. The breadth of their experiences, including those with other independent schools, gives special meaning to her appreciation of the education Pace offers and her plans for a future gift. She notes, "I am committed to continuing our support of Pace."
McCullough is also eager to point out the benefits of the CRT as a planned giving vehicle, because it is easy to do and can be advantageous from a capital gains perspective if donating low-basis stock. "A CRT can benefit both—providing continual income to the donor and setting aside funds for the institution once the donor passes away," she says.
She believes others would choose this way of giving to charity if they realized "a CRT is a two-way street—you get a benefit and eventually, so do your charities. It's a win-win."
McCullough is pleased to help Pace through membership in The Castle Circle, however, she is clear that she isn't seeking special recognition. She says, "The fact that Pace is taking good care of my granddaughter is the only thing that matters."