Stephanie and Austin McDonald '97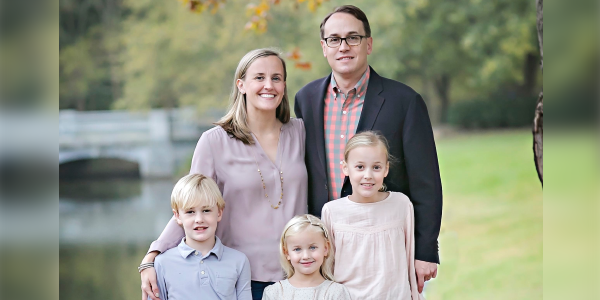 "We feel like it is our responsibility to continue to support such an important place to our family and others, now and into the future. Our planned gift, and our Pace Fund gifts, are an investment in Pace that will benefit our children and future generations of children."
- Stephanie and J. Austin McDonald '97
Pace Academy alumnus AUSTIN MCDONALD '97 has ties to Pace that stretch back to 1984, when he started school in the Pre-First class taught by Lower School Learning Specialist DEB COOK, then a classroom teacher.
Those ties were strengthened recently when Austin, a "Lifer," and his wife, STEPHANIE MCDONALD, the parents of ELOISE MCDONALD '27, HUDSON MCDONALD '29 and ALDEN MCDONALD '31, joined Pace's Castle Circle by arranging for a future gift, or planned gift, to Pace. The McDonalds decided to designate Pace as a beneficiary of their retirement account — an easy and popular way of making a planned gift.
Through their planned gift, the couple hopes "to support Pace in a meaningful way into the future and to help create a lasting legacy for Pace," Stephanie explains. "Our school community stands on the shoulders of the donors who came before us, and planned giving is a way for us to pay it forward."
Continuing to be engaged with Pace has been a priority for Austin, who appreciates the supportive setting he found during his 13 years as a student. He thrived in the intimate environment and enjoyed the opportunities to try new things.
"My favorite Pace memories include watching the baseball and soccer teams win state championships, learning I was selected for the Peer Leadership program and representing Pace in the state track and field meets my junior and senior years," Austin says.
"I never went very far from Pace," he continues. "In college, I stayed in touch with the Pace alumni office and after graduation, I volunteered for the annual fund as an alumni class caller. That transitioned into a six year term on the Alumni Association Board, the last two years of which I served as the President."
Stephanie adds, "I have always loved that Austin has been a lifetime supporter of Pace and made it a priority to give back, even when we were just out of college and he was starting his career."
The couple, who met as undergraduate students at Vanderbilt, married after Stephanie graduated from the Emory University School of Law. A native of Los Angeles, Stephanie has developed her own deep Pace connections. She volunteers in their children's classrooms and at school events like the Fall Fair, and she serves as a grade representative and chairs The Pace Fund's New Family Committee. "Volunteering has been critical to developing relationships with teachers, administration and other parents," she says.
When it was time for Eloise, their oldest, to begin school, the McDonalds explored many of Atlanta's independent school options. Stephanie says that Austin tried to take a step back and contain his bias toward Pace. However, both felt from the beginning that Pace was the right school. "Pace feels like home, and when you walk through the door at Randall House, you feel the warmth of the community, the dedication of the teachers and the joy of the students," she explains. "There was no place we would rather have our children attend school."
The McDonalds have found much to love in the Pace of today. "We expected that Pace would both nurture and challenge our children, and our expectations have been exceeded," Stephanie says. "Two of the neatest things as a parent are to watch your children try new things, even if they fail the first time or many times, and to see them expand their outlook on the world.
"It's also pretty neat that our kids get to go to school in the same building where Austin went to school; they see some of the same faces that were there when he was a kid and participate in some of the same traditions. It is really full circle and very special," she says.
Austin, who is president and COO of McDonald Development, a privately owned, multi-generational company that develops, owns and manages real estate in markets across the Southeast, has also volunteered for The Pace Fund in recent years, and currently serves on Pace's Planned Giving Committee.
"Pace gave me such a strong foundation for my life and is now doing the same for our three children," he says. "Because of that, it is an important part of my past, our present and our future. We feel like it is our responsibility to continue to support such a meaningful place to our family and others, now and into the future."