Nell and Bob Chambers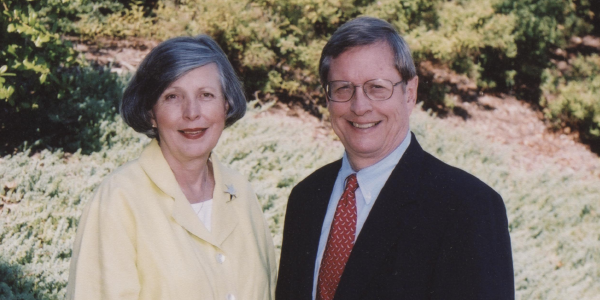 Nell and Bob Chambers came to Pace Academy as teachers in the school's early years and have remained deeply connected to the Pace community ever since. The couple, which arranged for a planned gift to Pace many years ago, is among the first 60 founding members of The Castle Circle. Here is their Pace story:
At age 23, J. ROBERT "BOB" CHAMBERS interviewed with Pace Academy's first headmaster, FRANK KALEY, for a position teaching science and developing the school's budding athletics and activities programs. It was 1963–not quite six years since Pace's now iconic Castle had opened its doors and filled the rooms once occupied by the Ogden family with teachers and students.
Kaley, hoping to hire a young teacher for the dual teaching and athletics role, succeeded in capturing Chambers' interest when he shared the fledgling school's motto: "To have the courage to strive for excellence."
"Courage," "strive" and "excellence," all resonated with Chambers. He was further impressed when "Frank described a school that valued each individual child," he recalls. Thus began a career for Chambers at Pace lasting more than two decades. NELL CHAMBERS joined her husband at Pace as a first-grade teacher in 1973, when their oldest son, Pace Lifer GREG CHAMBERS '78, was entering the eighth grade.
Scarcely two years later, Kaley approached Chambers with a new and greatly expanded opportunity at the school. Chambers elaborates: "Frank told me, 'I'm going to need a head in the upper division next year, and I've decided on you."
"I doubted my preparedness for such an assignment, so I turned to the other teachers for a reaction," Chambers explains. They uniformly offered support and told him "to take that job"–and that they'd be there to help.
As he began in his new role, he continued to place great value on his fellow teachers' input and opinions; in fact, these initial experiences soliciting input from others profoundly influenced his leadership style for the rest of his career.
Although the opportunity to become the headmaster of Athens Academy in Athens, Ga., in 1983 brought to a close Chambers' Pace career, he and Nell continue to hold Pace close in their hearts. They have become members of The Castle Circle by including a bequest for the school in each of their wills.
The desire to express gratitude to the school stems from countless Pace experiences that impacted every member of the family, Chambers says. He describes their years at Pace as "a family affair" with "Nell, a first-grade teacher; me, a teacher, principal, and assistant headmaster; and our five children, all students."
He adds, "Each of them entered school at Pace; Greg, DAVID CHAMBERS '80 and ANDREW CHAMBERS '82 graduated from Pace." Their younger children, daughters Amy and Beth, graduated from Athens Academy after the family relocated.
Today the Chambers have nine grandchildren who all attended independent or parochial schools, which he believes reflects their parents' appreciation for their own school experiences.
"Pace has meant so much to us; we will always value the opportunities the school provided," he says. "The educational foundation for our children and the professional experiences for Nell and me have been invaluable."
In addition to making provisions for a planned gift, the couple annually contributes to The Pace Fund, directing their gifts to two Pace endowments that carry their name: The J. Robert Chambers Faculty Development Fund, created by Pace alumni in Bob Chambers' honor, and the John David Sr. Athletic Endowment Fund, created in memory of their son David, who died in 2012, by the Chambers family and friends.
Chambers adds, "All of us are grateful [to Pace]. Through our gifts, we are expressing our appreciation."
Note: In late 2018, shortly after this interview, the Chambers family lost their daughter Beth, an elementary school teacher and the mother of two of their grandsons. The Pace community offers sincere condolences to the family.