Cara Isdell Lee '97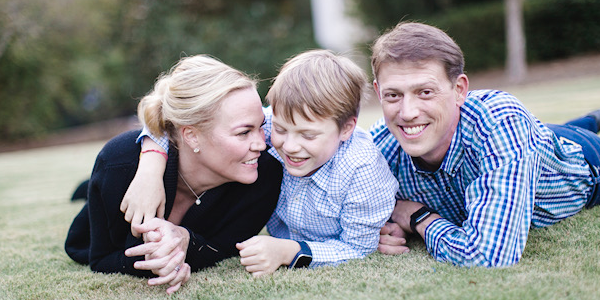 For CARA ISDELL LEE '97, the decision to include Pace Academy in her will and become a member of The Castle Circle was an easy one. "Pace shaped who I am today," she explains. "I want to give back because of all the experiences I had. Now it's my son's school...it brings out so many emotions in me."
Giving back comes naturally to Lee, who found her niche in volunteering and nonprofit board service when her son, RORY LEE '26, was very young. "Before he was born, I worked for the Atlanta Humane Society and at the Fernbank Museum of Natural History," she says. "After he came along, I wanted to be home with him, but something was missing."
When a chance to serve on Fernbank's board arose in late 2010, the young mother took it—addressing the missing element and rekindling a passion for helping others that began during her seventh-grade year at Pace. Through Pace's service learning (now "community engagement") program, she volunteered weekly, visiting and reading to children in a low-income housing community.
As a Fernbank board member, Lee gave her time to event planning, fundraising and other volunteer duties. "It was a crazy flip flop to go from being an employee to being on the board," she says. "But I found out how much I enjoyed it, and it snowballed from there."
"Snowballed" is an apt description; today Lee volunteers her time and serves on nonprofit boards for seven organizations: Pace, the Atlanta Botanical Gardens, Captain Planet, Fernbank, Skyland Trail, The Nature Conservancy and UNICEF. At Pace, which instilled in Lee the importance of giving back, she has founded the Cara Isdell Service Learning Award to encourage other Pace Upper School students to engage in the community.
With such passion for Pace, it's easy to mistake Lee as a Pace Lifer; however, she arrived in the middle of her fourth-grade year, when her parents, NEVILLE and PAMELA ISDELL, moved from Germany to the U.S. Just 9 years old, Lee had attended an English boarding school the previous two years, a decision all her own.
"I was to attend with a schoolmate from Germany, but [my friend] backed out at the last minute. So it was not quite what I expected," Lee explains. Like her son, Lee is an only child and very close to her parents. "Although I wasn't unhappy there, I really missed them." Flying between the countries as an unaccompanied minor, she recalls feeling "as if the English Channel was the Atlantic Ocean," she says.
When Coca-Cola, her father's employer, offered him an opportunity in Atlanta, Lee's parents invited her to make a school choice once again: to remain at boarding school and "grow up an English girl" or to come to America with them.
"I was in awe of America," Lee remarks. She had never lived in the U.S., although, in addition to Germany and England, she had called South Africa, the Philippines and Australia home. Lee admires her parents for making the decision hers. "I look at my young son, and I don't think I could give him such a choice."
The Isdells, however, did not let their daughter decide which American school she would attend. "They had toured other schools and knew that Pace was the right one," she says. The smaller comparative size was one aspect that appealed to them, she explains.
Being in the small Pace community "helped me get into the American way of life," Lee says. She remembers that early on she was assigned the state of Georgia for a class project, which helped her learn about her new home. In her Randall House classroom, she learned about Georgia's state bird, the brown thrasher, and countless other facts. She adds, "I made great friends at Pace and was happy."
Her parents also became deeply engaged with the school, an engagement that continues in ways that have shaped the Pace of today. Her father, who eventually became Coca-Cola's CEO and chairman (2004-2009), served on Pace's Board of Trustees for eight years and is now a Life Trustee. The family foundation, which Lee operates, has provided funding to establish and grow Pace's Isdell Center for Global Leadership (ICGL), which is entering its sixth year. The entire family remains actively involved with the ICGL.
As a Pace mom, Lee often encounters Pace moments that feel "extremely emotional," such as her son's Pre-First orientation six years ago, when she watched him shake hands with then-Head of Lower School ANNA VALERIUS—a reminder of her own daily experience with MIKE MURPHY, a former Lower School Head and former Pace Headmaster. Now, Head of Lower School SYREETA MOSELY greets students daily at carpool drop-off. "Rory loves it here," Lee adds. "Thank goodness!"
Coincidentally, one of his good friends, BAUER THOMAS '26, also an only child, is the son of Lee's Pace classmate DREW THOMAS '97. Lee adds, "SALLY FORB, who taught Drew and me in fifth grade, pulled out our old yearbook and class pictures during this year's orientation and asked our sons, 'Can you tell who these people are?'"
Lee maintains many of her old Pace friendships, and also values the new ones made with other Pace parents. "That is what Pace is about. It's about caring," she says. "It's about the relationships."