Jean TREMEGE Robertson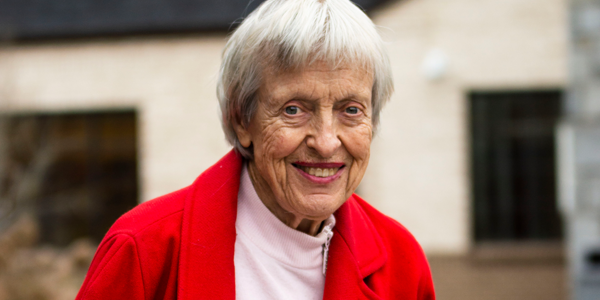 JEAN TREMEGE ROBERTSON has lived in many cities and "loads of countries," as she explains it, and has enjoyed extraordinary adventures over the years. Yet she describes her experiences at Pace Academy as some of the happiest of her life. A former Pace French and science teacher, parent, and grandparent, Robertson's wide-ranging Pace memories date back to the mid-1960s. Her children, PHILIPPE TREMEGE LINDSAY '78, JACQUES TREMEGE, ANN FRANCE TREMEGE and MARY MIKELL ROBERTSON SPENCE '78, and her grandson KEITH TREMEGE '14, all attended Pace.
Robertson's appreciation for Pace and its special role in her life inspired her to include the school in her estate plan through a bequest in her will. By making plans for a future gift to Pace, Robertson joins The Castle Circle, which recognizes individuals and couples who arrange for a planned gift to the school. "I've included Pace in my will to help it continue its good work; I've appreciated my experiences as well as the wonderful education it provided my children and grandson," she explains. As one of the first 60 to join in Pace's 60th year, she will be honored as a Castle Circle founding member.
Before embarking on her teaching career, Robertson worked for the U.S. government's intelligence community, which sent her abroad. "I wasn't a spy," she clarifies, "but was there to harmonize with the people in the countries where I lived." Stories from Robertson's time overseas include crossing the Sahara Desert on a camel and driving alone through three Middle Eastern countries while en route to an assignment. She made new friends at each step of her journey, including a man from French Algeria, whom she later married. "My mother used to say I should write a book" she says, but her life raising four children and teaching countless others was too busy.
Robertson and her husband returned to the U.S. and lived in numerous cities before eventually settling in Atlanta, where she began to teach French in the independent school community. In 1965, Robertson accepted a position at Pace-- her favorite school. She says, "I love Pace--it has a nice feeling." She recalls, "We knew every child, from kindergarten up. Children who felt alone in big places loved it here. Pace was home."
Her first classrooms were in the Castle, where she taught the youngest Pace students French. "I never spoke English; I always spoke French," Robertson says. "The little children thought I couldn't speak English; I remember one saying something to me in English, and another saying, 'Tell her in French---she can't speak English!' I had a hard time avoiding laughing."
When the doors opened on the first Upper School building (replaced by the Arthur M. Blank Family Upper School in 2014), Robertson's classroom was relocated to the new building. "There, I began teaching the Upper School students to prepare them for college," she says. Eventually she became head of the language department. She explains that teaching French was her passion; however, as a pre-med student during her early college years, she was qualified to teach science as well--and was called upon to fill science teaching positions many times during her Pace tenure.
Attuned to the educational value of international experiences, Robertson organized a yearlong exchange between Pace Upper School students and a group of French high school students--perhaps foreshadowing the international study tours Pace offers students today through the Isdell Center for Global Leadership.
"I hadn't planned to be a teacher, but I loved it once I started," she shares. "I just enjoyed working with the children and knowing their parents." Robertson, who spent 15 years of her life at Pace, will soon spend time with a young child again; her first great-grandchild arrives in early 2019.