Hilda and Joseph "Pat" Patrick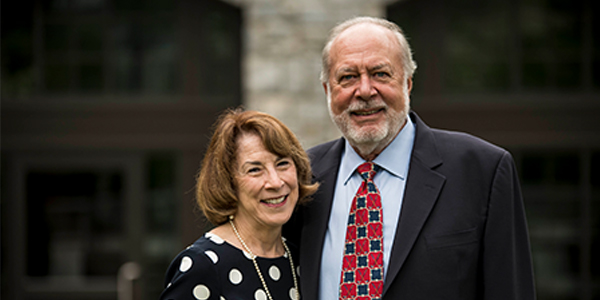 "What a special privilege it is to give back to Pace Academy through our estate plan a gift to attempt to repay Pace for all it has meant and continues to mean to the Patrick Family."
- Hilda and Joseph "Pat" Patrick
Parents of Pace Alumni, Pace Grandparents and Pace Faculty Parents
Decatur natives HILDA and JOSEPH "PAT" PATRICK, married for 52 years, feel a deep connection to Pace Academy, thanks to a relationship that extends back to the fall of 1983, when their two daughters, HEATHER PATRICK MCCLOSKEY '89 and BONNIE PATRICK HANNAH '86, joined Pace's seventh- and 10th-grade classes.
To celebrate this connection and give back to the school, the Patricks have named ​Pace​ as a beneficiary in their charitable remainder trust. By sharing these arrangements with Pace, they have become members of The Castle Circle, which provides recognition to individuals and couples who've arranged for a planned gift to Pace.
"We have many reasons to be delighted to support Pace in this way," Hilda shares. In addition to being the parents of alumni, she explains, they are now Pace grandparents to Heather's children, REBECCA MCCLOSKEY '26 and CAL MCCLOSKEY '29. There is one more connection: "Heather teaches math at Pace, so we are also Pace faculty parents."
The Patricks' Pace story followed many other chapters in their years together. High school sweethearts, both attended Vanderbilt University. Hilda adds, "We married after college and lived in numerous locations while Pat served in the military and worked for John H. Harland Company."
Pat was commissioned by the Army after graduation and left for service in 1967, "at the height of the war in Vietnam." He continues, "I was fortunate to receive orders for the 4th Armored Division in Nuremberg, Germany," which the couple counts as one the favorite places they've lived. Pat explains that it served as a base for "fantastic travel opportunities." He adds, "Bonnie was born there, and even before her official papers were processed, we'd 'smuggled' her across borders in Western Europe on our travels."
The family eventually returned to Georgia, settling in Stone Mountain, where they built a new home and Pat launched a printing business, LabelAmerica. Pat says, "Hilda, Bonnie and Heather worked with me on weekends to help keep the fledgling company alive."
During Bonnie's ninth-grade year, Hilda and Pat began to explore independent school options for both daughters. "Pace impressed us as the best fit for our family," Hilda recalls. "We were attracted to the small size of the school and the classes and the strong probability of challenging and enjoyable preparation for competitive colleges. When we left the open house, Pat said that he thought the best thing we could do for our children would be to send them to Pace."
Dedication from the entire family made a Pace education possible for the girls, according to Pat. "Hilda's, Bonnie's, and Heather's paper cuts and other assorted injuries from weekend work at LabelAmerica enabled us to become part of Pace Academy." He adds, "Hilda also managed a retail store and taught at Christ the King School, all the time driving at least two, sometimes three, round-trips from the Stone Mountain home to Pace and back."
Pat has been convinced since the first open house, decades ago, that many qualities, such as its family-oriented focus, differentiate Pace. He remarks, "We've never been disappointed in nearly 40 years."
He continues, "The foundation our daughters received at Pace enabled them both to be accepted to top-tier universities, graduate with honors and go on to pursue the highest level of graduate degrees. Bonnie graduated from Sewanee: The University of the South, enrolled at Emory University School of Medicine for two years, and received her M.D. degree from The University of Cincinnati. Heather graduated from Princeton then returned to Atlanta and her Pace roots, teaching at Pace for two years before attending Georgia Tech for a Ph.D."
Hilda describes the paths their daughters have taken with pride. She says, "Heather taught at Emory and married MIKE [MCCLOSKEY], also a Princeton graduate. When their children began school, she returned to teaching math at Pace. Bonnie sandwiched raising two boys, William, 15, and Harry, 13, into her career as a hospitalist. Her husband [William "Bo" Hannah] has retired from service as an Air Force physician and both now practice medicine in Savannah."
The Patricks are also enjoying seeing Pace through a grandparent lens. "Rebecca and Cal love Pace and continually amaze me with the depth of their learning," Hilda says. "It was wonderful when our children attended but I believe it is even better and broader now. I am so impressed with the opportunities for student travel and with environmental education."
She adds, "When Pat and I discussed adding Pace as a beneficiary of our charitable remainder trust, we were simply expressing gratitude to a fine institution. The benefit to us is knowing that we will leave a small legacy to enhance the future for Pace students."