Bonnie and Jay Harris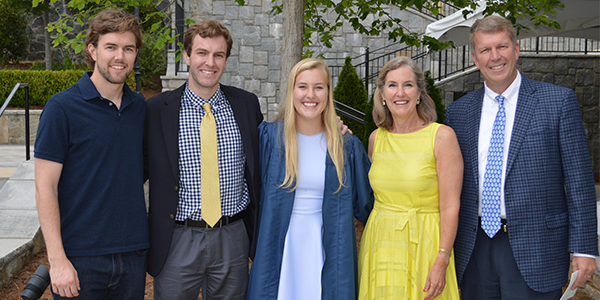 This profile of former Board member Bonnie Harris describes the reasons she and her husband, Jay Harris, parents of three Pace alumni, have chosen to remember Pace in their estate plan and to join The Castle Circle.
BONNIE HARRIS and her husband of 39 years, JAY HARRIS, are the parents of three children, all Pace Lifers, sons JACK HARRIS '10 and CAL HARRIS '12, and daughter KEELEY HARRIS '17. Harris began volunteering at Pace when her oldest was in Pre First; from day one she was ready and willing to get involved. Over the years, she gave time to Pace in myriad ways, including chairing the Auction & Gala, founding the Arts Alliance and serving on the Board of Trustees.
Harris says Head of School FRED ASSAF once teased that she seemed to be at Pace more than he was. She admits he had a point—acknowledging she spent countless hours on campus during the 21 years the children were students. She adds that Pace was so often at the center of family life for all five Harrises that she and Jay now believe Pace is among "the most impactful institutions" in their life together.
To express gratitude for all they and their children received from Pace, and to ensure the school continues to flourish in the future, the Harrises have made provisions for a planned gift to Pace through a bequest in their will.
"A planned gift allows us to make a lasting difference to the organizations that have been game changers in our lives," she says. "With a planned gift, it's important to know the organization is on firm footing that it will be around and continue to make an impact."
She continues, "At the time, we chose Pace because we felt it was the right place for each child. Looking back, we can say it was one of the best decisions we ever made--Pace has made a tremendous impact on our family. We've made this commitment to give back in a lasting way." Both Harrises are confident that the mission of Pace is enduring and know that the school will serve generations to come, she explains.
"People get to a place where they're ready to make this kind of commitment," Harris explains. "Present giving comes out of current dollars; planned giving is another kind of giving. It's not tied to a person's means; it's really a very simple way of giving and making a difference for the future."
Today Harris continues to volunteer for Pace—now as a member of the Planned Giving Committee that oversees planned giving efforts for the school. She believes that many Pace families will find that supporting the school through a bequest in their will, or other planned giving approach, provides deep satisfaction.