Helen Smith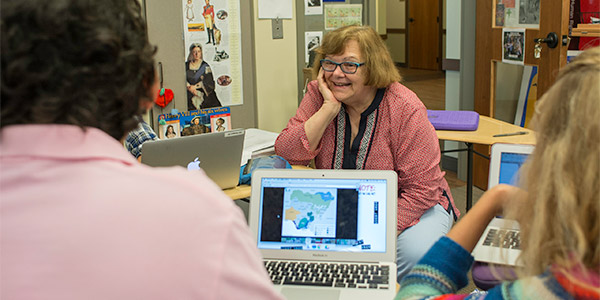 "To teach is to touch a life forever" -Unknown
By this measure, Pace Academy Upper School history teacher Helen Smith's impact, teaching upwards of 2,500 Pace students over a span of 45 years, is vast. Beloved to her former students, she receives emails, notes and in-person visits from alumni of all ages.
In her classroom today, you'll find the children, and even the occasional grandchild, of her former students from the 1970s and 1980s. Many of these former students are her lifelong friends.
In addition to her years of service to Pace, Helen recently shared that she's included a bequest to Pace in her will. We are honored to share her story.
Fresh out of Cornell College, a small school in her home state of Iowa, Helen Smith moved to Atlanta in the late 1960s to pursue her master's in history at Emory University.
Passionate about her subject and planning to become a public-school teacher, Helen says Emory presented her an opportunity after her first year, which she accepted, that changed the course of her life.
"They had two extra fellowships available through the National Defense Education Act, and said I could have one if I'd stay to work on my doctorate," she explains. "So instead of accepting an offer from a large, very good school in the Chicago suburbs, I stayed here."
Finances on the fellowship were tight, however. Trying to make ends meet, she left her doctoral studies--finding work down the road from Pace, at The Westminster Schools, where she held temporary positions for a semester.
Through her friends at Westminster, she learned that Pace was expanding and hiring teachers. The year was 1972; Pace was 14 years old-and Helen applied for a full-time job teaching history.
Pace's first head of school, Frank Kaley, offered her a position, which she accepted; when she began in the fall, George Kirkpatrick had assumed the headmaster's role.
Pace was much smaller in the early 1970s; yet it was a stark contrast to Helen's own school experience. She explains, "I went to a one-room country school with no running water and outside toilets. There were 12 children in the whole school. A school board of the parents did all the maintenance work, and the same teacher taught everything."
Helen says her family's means were modest when she was growing up, and admits she wasn't sure what to expect joining the faculty of an independent school. But once at Pace, she began to question assumptions she'd previously held about private-school families, she says. "Pace reinforced my basic beliefs about people. I was struck by the human-ness of the environment."
At Pace, Helen says she found "a community that is so strong and so caring and so supportive...Pace, to me, is summarized in terms of relationships. I can't imagine not being here."
As a Midwesterner who grew up in a rural setting, Helen's background was different from many in the Pace community. She says her colleagues at Pace provide "wide exposure to people from different backgrounds, which is so valuable." She adds, "I'm happy that Pace continues to bring in more and more different voices."
In addition to the relationships, Helen is grateful for what she calls her "lifetime learning." She explains, "Teaching wakes you up to new perspectives. Every day I learn something I didn't know before. Often it's because of something the kids ask or have researched. Our students have such curiosity and knowledge of the world-it's inspiring. They care about things you wouldn't expect-and the environment here allows them to be curious."
Helen's experiences and her strong relationships over the years within the school community kindled in her an abiding love for Pace--sowing the seeds for her decision in recent years to remember the school in her will, and establishing her as one of the founding members of The Castle Circle, which recognizes individuals and couples who've made provisions for a planned gift to Pace.
"Pace has always been a place where I've felt very much at home. The Pace family has been so supportive," she says, "after the deaths of my parents, during knee surgery, back surgery--there was so much support for me personally. From the administration to the teachers to the parents and students, that sense of community is so important, and has meant so much to me."
She continues, "Just as Pace helps students become global citizens, it also exposes our faculty to wonderful global experiences. I'm so grateful for the opportunities I've had. My hope is that what I'm setting aside for Pace will help ensure these things are affordable to all Pace students and teachers in the future."