Melinda and Steve Wertheim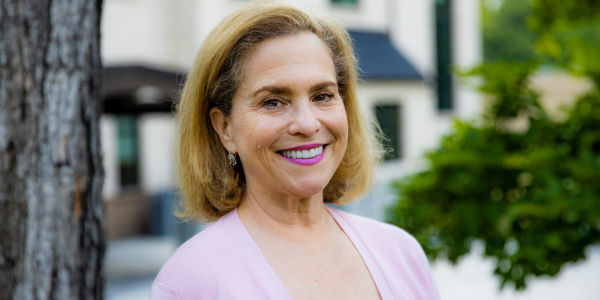 For Castle Circle member MELINDA WERTHEIM, "adoring grandmother" is one more on a long list of roles she's held through the decades, many of which have had Pace Academy as a focal point. The mother of three Pace alumnae—each now also a mother—was an active Pace volunteer during her daughters' years at the school, and her passion for philanthropy and interest in planned giving helped establish the foundation for today's Castle Circle.
Wertheim's eyes light up when she talks about her three young grandchildren: Myles, the oldest, is the son of JULIA WERTHEIM SCHNABEL '04; Guy, the son of EVE WERTHEIM FRID '06, occupies the middle spot; and the "baby," Remy, the daughter of MEREDITH WERTHEIM BLECHMAN '02, joined the family in January 2019.
While spending time with her grandchildren has become her top priority, Wertheim has always given her time to Pace Academy, and continues to do so to this day. Most recently, she accepted a new Pace role—Planned Giving Committee member. She is excited to reach out to others passionate about Pace regarding membership in The Castle Circle.
"I loved being a Pace parent!" Wertheim explains. "[When my daughters were students], I volunteered in the classroom and was a grade rep. I chaired the [Parents Club] Auction's acquisitions committee. I also worked on the Fall Fair." Pace's leadership noticed, and in 1996, invited her to join the Board of Trustees. Wertheim served for seven years, until 2003, and now holds the honor of Pace Life Trustee.
"I chaired the Development Committee six of my seven years on the Board," raising funds for a variety of projects that included the Middle School, natatorium and renovations to the Upper School. "I was never hesitant to ask others to support worthy causes," she says.
While serving on the Board, Wertheim advocated for the establishment of a planned giving program at Pace. She and her husband, STEVE WERTHEIM, became two of the first members of the yet-to-be named Castle Circle nearly 20 years ago, when they added Pace to their estate plans.
Wertheim's Pace story began in 1988, when the young family moved to Atlanta from Philadelphia, Penn., as Meredith was about to enter kindergarten. Wertheim, who attended an independent school, was determined that her daughters would have a similar education.
Wertheim's independent-school foundation prepared her for her studies at Northwestern University and George Washington University, where she received degrees in art history. That began her career as a researcher for The Phillips Collection in Washington D.C., followed by a stint in the Cleveland Museum of Art's education department. With the move to Atlanta, Wertheim's focus shifted to philanthropic endeavors with organizations such as the Atlanta Jewish Federation, the High Museum of Art and, of course, Pace.
Her favorite Pace memories have to do with time spent with her daughters—"field trips, class projects, cheer competitions… And my Pace experience wouldn't be complete without mentioning [former Head of Lower School] ANNA VALERIUS," Wertheim says. "Her guidance was invaluable to the early education of all three of our girls, and to Steve and me as young parents."
When asked why she continues to support her daughters' alma mater, Wertheim thinks of the Pace parents, volunteers and Trustees who came before her. "They planted the seeds," she says. "Then, while my children were on campus, they reaped the benefits. Now, it is our turn to plant the seeds for the future students, programs and facilities. As a Castle Circle member, I hope that current families and alumni will be inspired to support the school for those who come after them," she adds.
And, though it is a few years before a grandchild might enjoy the Pace experience, Wertheim admits the role of "Pace grandparent" has crossed her mind.