Meredith Winitt Forrester '95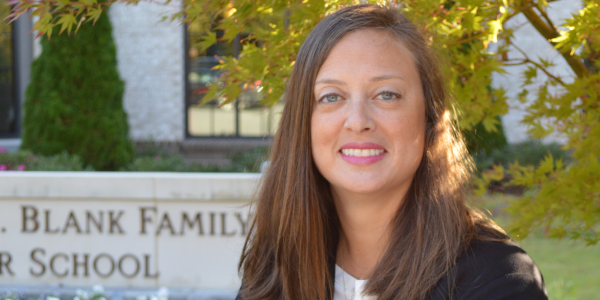 For MEREDITH WINITT FORRESTER '95, Pace "was at the top of the list" when she and her husband, JEREMY FORRESTER, updated their wills to include charitable bequests. "We chose organizations that meant a lot to us and where our gifts would be used for a purpose," she explains.
Forrester's decision to join The Castle Circle with a planned gift to Pace stems from her desire to support causes she values as well as recognition that planned gifts are often the most impactful made in a lifetime. "I would imagine that for most people a planned gift is larger than any gift you could make during your life," she says.
New to Pace in the fourth-grade, Forrester is grateful for the solid foundation Pace provided for her life's journey, which has included college at the University of Georgia and a career in finance and banking, as well as marriage and motherhood. The Forresters' older daughter, BROOKE FORRESTER '26, enrolled in Pace as a sixth grader; their younger daughter, Arden Forrester, attends Jackson Elementary School. Looking ahead, the couple feels Pace is a fit for their family and appreciates being part of a school culture founded on family and community.
Forrester's own parents brought her to Pace in 1986, after an unsettling experience with a student at her previous school. They were insistent upon making a change, but Forrester remembers feeling uncertain. "When I came for my interview and was asked why I wanted to come, I said, 'I really don't want to. My parents are making me,'" she laughs.
Despite Forrester's early reserve, she soon felt welcome. She notes, "The first day I was out of dress code and I hadn't done the summer reading. I had read a ton of books, just not the right ones. I was mortified-but everyone reassured me, telling me, 'You're a fourth-grader. It's okay.' I ended up loving Pace. It was the best experience."
Forrester's family faced financial setbacks when she reached ninth grade, and her parents considered having her attend a public high school. "The thought of being pulled out was devastating to me," she explains. "I did not want to leave; I was so happy."
Ultimately, Forrester remained at Pace and graduated with her class in 1995. As a college student, she learned that Pace had granted her family financial aid throughout high school. "I didn't know it at the time," she says. "It was a great gift."
Supporting and volunteering for the causes she values has roots in Forrester's wide range of life experiences, including a devastating event soon after college graduation. In 1999, she was caught in Atlanta's "day trader shooting" in Buckhead's Piedmont Center, which wreaked tragedy in many lives and left her critically injured from a bullet in her back.
"I was seven weeks into my first real job when I was shot," Forrester shares. "I almost died. I received 115 pints of blood. They said I had a one in a thousand chance of survival. Really, I should not be alive." She underwent numerous hospitalizations, surgeries and rehabilitation, and miraculously returned to work just one year later. Forrester, who recounts these events calmly, bravely moved on with her life, pursuing a career and family.
Now new Pace parents, Forrester and her husband are excited to watch their daughter experience a Pace education. "Jeremy has listened to me talk about how fond I am of Pace," she notes. "We really like that it's small and truly has a family feel." She sees positive changes, such as expanded athletics programming, since she attended, but says "the values are the same as when I went here."
Beyond her Castle Circle membership, Forrester is engaged at Pace in other ways. She supports The Pace Fund, is a graduate of Leadership Pace 2017 and serves on the Pace Alumni Board and Knight Cap Committee, which she is co-chairing for 2020.
Forrester is intent on making a difference for future Pace students with her estate gift and hopes that her future contribution will "allow a child or children who wouldn't normally be able to attend Pace to go here and to benefit from all the amazing opportunities."